Managing Menopause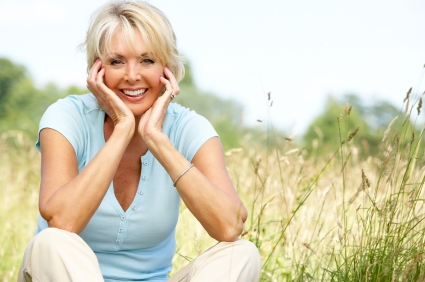 Menopause is inevitable for all women. Irritating symptoms like hot flashes, mood swings, insomnia, bone loss, and difficulty concentrating are just the beginning of the process that rebalances your hormones. The following includes some suggestions to help you deal with the symptoms of menopause.
Hot Flashes – Using phytoestrogens - plant derived hormones – you can somewhat undo the hormonal changes caused by menopause. Soy-based foods contain significant amounts of phytoestrogens. When you are experiencing severe hot flashes eating tofu, soy sauce, soy beans, soy milk, or other soy products will help reduce and stop your hot flash. Acupuncture has been proven to reduce the severity of hot flashes for some women during menopause. Exercise also eases hot flashes by reducing the amounts of FSH and LH in the body. Exercising 20 minutes a day, or even just 3 times a week can be significantly helpful.
Breast Tenderness – Black currant oil is high in vitamin C and other minerals that can alleviate breast tenderness. In Europe, women use evening primrose oil to stop breast pain. Flaxseed and testosterone replacement are also used to treat breast pain.
Mood Swings and Depression – Studies conducted in Europe showed that St. John's Wort treats moderate depression. Other natural ingredients that treat menopause mood related problems are garden sage, ginseng, black cohosh, and dong quai. Yoga helps some women by reducing stress and improving her mood.
High Cholesterol – Phytoestrogens (also used to treat hot flashes) are also good in undoing cholesterol changes caused by the hormonal changes in menopause. Exercise also helps keep your cholesterol in check.  A healthy low-fat, diet with fewer calories also helps lower your cholesterol.
Insomnia – Melatonin is a hormone that controls sleep patterns. This over-the-counter treatment has been verified effective. Valerian is another medication that improves sleep quality. Chamomile tea is a natural way you can calm yourself before sleeping. Passion flower and motherwort are also said to be effective in improving sleep.
Difficulty Concentrating and Memory Loss – Gingko biloba is used to help memory loss problems and dementia. Sage and ginseng are herbs also used for memory loss. Using mind puzzles can help keep your brain active and improve your memory and concentration. Adding more fruits and vegetables to your diet  and exercising more often can also help increase concentration.
Vaginal Drying – Lubricants like KY Jelly can be used prior to intercourse. Other lubricants can be used on a daily basis. Sesame seed oil can be used as an ointment to moisturize your skin. Vaginal estrogen cream and slow release estrogen rings both give low doses of estrogen to the interior of the vagina. This, although it helps dryness, can have negative side effects and should be used with caution.
Bone loss – Calcium and vitamin C are the two supplements that help most with bone loss. Prescription medications are also available to slow bone breakdown. There are also selective estrogen receptor modulators (SERMs) that reduce bone conditions caused by menopause.
Loss of Sex Drive – Women can use non medical methods to increase their sex drive. Lubricants, sensual massages, and therapy can all increase your libido. Yohimbine is a supplement used to increase female sex drive by increasing the vaginal blood flow. You can also use testosterone replacement therapy but there are dangerous side effects associated with testosterone so it is recommended you talk to your doctor before using this medication.