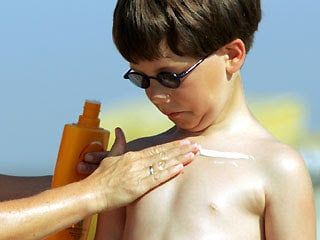 Sunscreen- True or False?
Hot, summer days are fast approaching. It's important to be putting sunscreen on in order to protect yourself. But what's even more important is buying the right type of sunscreen. A mistake made by many people.
1) A sunscreen with SPF 60 provides two times better protection than a sunscreen with SPF 30.

False.

SPF 30 blocks 97% of UV rays, and SPF 60 only protects against 1 to 1.5% more, which is 98 to 98.5%. Why pay more for an extra 1% of protection. Not only that but
raising the SPF from 30 to 60 results in it having more chemicals.
2) Using an aerosol sunscreen is the best way to apply sunscreen to the body because it allows for an equal application.
False.
Most aerosol sunscreens are in fact not as protective as sunscreen you apply manually. This is because as the sunscreen is traveling from the container to your body most of the molecules do not land on your skin.
3) Most sunscreens effectively protect against UVB rays but do not against UVA rays.
True.
Essentially UVB rays are those that cause sunburn, and UVA is those that go deep into your skin and can be responsible for causing skin cancer. In order to make sure you are protected against UVA rays make sure that your sunscreen contains Mexoryl, Avobenzone, Zinc Oxide, or Titanium Dioxide. UVA rays are much more harmful than UVB rays, so make sure you are protected.
4) A sunscreen with a higher SPF provides protection for a longer period of time.
False.
All sunscreens, despite the SPF or what it says on the package, provide sun protection for the same amount of time. You should reapply sunscreen after an hour and a half in the sun.
5) I should put sunscreen on my whole body, not only the parts exposed to the sun.
True.
Although the parts exposed to the sun like your arms and legs are a little more
important to put sunscreen on. You should put sunscreen on your entire body.
For example, the average cotton T-shirt has an SPF of 5. That may put things in perspective for you.
DoctorSolve Healthcare Solutions Inc., a Canadian Internet-based pharmacy intermediary (license #BC X23), offers low cost, long-term prescription drugs. A professionally registered pharmacist fills all Canadian prescriptions. A certified member of the Canadian International Pharmacy Association, DoctorSolve is ranked as one of the best online Canadian pharmacies .
For more information on how to order Canada drugs safely and securely call 1-866-732-0305 or visit https://www.doctorsolve.com/ – a trusted and reliable Canadian online pharmacy since 1999.