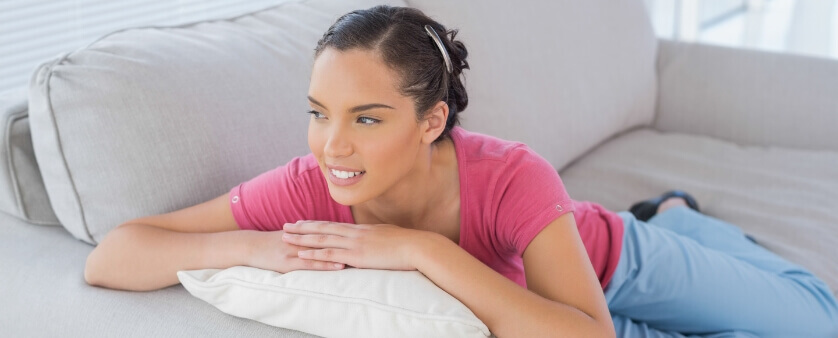 How can Vagisil help me?
Vagina health
Vagina health affects more than just your sex life as it is an important part of women's overall health. Vaginal problems can affect fertility, desire for sex, and ability to reach orgasm. If you have vaginal uneasiness due to minor itching and irritation of the skin outside the vagina or anus these can be relieved by Vagisil numbing cream. Ongoing vaginal health issues can also cause stress or relationship problems and affect self-confidence. know the signs and symptoms of vaginal problems and what you can do to protect your vaginal health.
What are the signs and symptoms of Vaginal problems?
Consult your healthcare provider if you notice:
A change in the color, odor or amount of vaginal discharge
Vaginal redness or itching
Vaginal bleeding between periods, after sex or after menopause
A mass of bulge in the vagina
Pain during intercourse
You might not need to see your health care provider every time you have vaginal irritation and discharge particularly if you've been diagnosed with a vaginal yeast infection in the past and you are having similar signs and symptoms. However, if your symptoms don't go away after using a product such as vagisil anti-itch ingredients or other over the counter medications you should consult your health care provider.
How do I apply vagisil to help me?
Vagisil
is a local anesthetic (numbing) medication that works by blocking the nerve signals in your body. It also reduces the pain or discomfort of inserting medical instruments into the vagina or rectum such as a tube or speculum. Vagisil can also be used to decrease the amount of pain or discomfort caused by minor pain on the surface of the body.
Vagisil numbing cream contains a local anesthetic as the active ingredient, 2% lidocaine. The vagisil maximum is a stronger preparation that has benzocaine and resorcinol as its contents.
Tell your doctor if you have/are:
Allergic to Vagisil or any other drug
Pregnant or plan to become pregnant
Breast-feeding
Taking any other prescription or over-the-counter medications including vitamins, minerals, and herbal products.
Asthma, bronchitis, emphysema or other breathing disorders
Heart disease
A personal or family history of blood cell disorder called methemoglobinemia or any genetic enzyme deficiency
A smoker
What are the precautions for Vagisil?
Overdosing on Vagisil or any other numbing medications can be fatal. Do not apply too much of the medicine on your skin because the medicine will be absorbed through the skin and into the blood. Symptoms of overdosing include uneven heartbeats, seizure or convulsions, coma, and slowed or stopped breathing (respiratory failure). Always use the smallest amount of this medication needed to numb the skin or relieve pain. Do not use large amounts of Vagisil.
Check the label thoroughly before using Vagisil. Confirm with the doctor if not sure about how to use Vagisil. Vagisil should only be used eternally, especially on the skin just outside of the vagina and around the anus by adults and children older than 12 years old.
Do not cover treated skin areas with a bandage or plastic wrap without asking your doctor. Do not use Vagisil topical to treat large skin areas or deep puncture wounds. Avoid getting this medication in your eyes.
How do I take Vagisil?
Read the label on the medication and take medication as prescribed by your doctor. Do not use this medication longer than recommended. Do not use larger or smaller amounts of the medication. When treating a minor skin condition, apply a thin layer to the affected area up to 4 times a day for a week. If symptoms last longer than a week consult your health professional. If your medication comes in a spray, spray medication 6 – 12 inches away from the skin. If the affected area is on your face, spray medication on your hands and then apply it to the affected area on your face.
Avoid contact with your eyes and do not spray onto your face. Do not use Vagisil on large affected skin areas, deep puncture wounds, raw or blistered skin from a severe burn or abrasion. Store Vagisil at room temperature and away from the heat or moisture. Do not freeze.
If a dose is missed, take it as soon as possible. If it is almost time for your next dose, skip the missed dose and return to your regular dosing schedule. Do not double up on doses. You may or may not be on a dosing schedule.
Does Vagisil kill vaginal bacteria or fungus?
Vagisil mostly contains topical gels to numb the itching. As it has no antibacterial or antifungal activity, it does not protect against infection. If the itching is along with significant white discharge and smell, it is better to seek medical consultation. However, Vagisil is known to give significant relief from vaginal dryness and itching especially in elderly women.
The other products available under the brand Vagisil are:
Intimate area wash, which is claimed to be hypoallergenic.
Intimate wipes, which can be used to clean the vaginal area after using public washrooms
Vagistat suppositories and cream containing an antifungal called miconazole to treat fungal infections of the vagina.
It is advised to use the three products mentioned above after consulting a health care professional. Most practitioners believe that the vagina can clean itself by its own cleaning mechanisms. It does not need intimate washes or douches.
Vagisil Side effects:
Serious side effects:
Severe burning, stinging, or sensitivity where the medicine is applied
Swelling, warmth, or redness
Oozing, blistering, or any signs of infection
Headache, weakness, dizziness, breathing problems, fast heart rate, and gray or bluish colored skin (rare but serious side effects of benzocaine)
Less serious side effects:
Mild stinging, burning, or itching where the medicine is applied
Skin tenderness or redness
Dry white flakes where the medicine was applied
This information is advisory only. It does not contain all the information about this drug. If you have any questions about Vagisil ask your doctor, pharmacist, or health care provider.

DoctorSolve Healthcare Solutions Inc., a Canadian Internet-based pharmacy intermediary (license #BC X23), offers low cost, long-term prescription drugs. A professionally registered pharmacist fills all Canadian prescriptions. A certified member of the Canadian International Pharmacy Association, DoctorSolve is ranked as one of the best online Canadian pharmacies.
For more information on how to order Canada drugs safely and securely call 1-866-732-0305 or visit https://www.doctorsolve.com/ – a trusted and reliable Canadian online pharmacy since 1999.