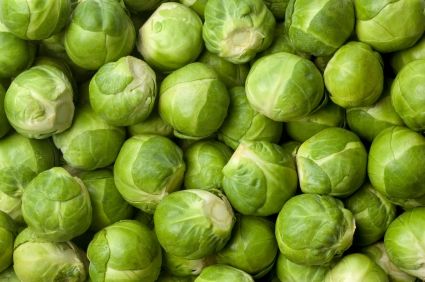 Eat Your Brussel Sprouts
At Christmas time or Thanksgiving, practically whenever you can get your family together, Brussel sprouts are a delicacy. Like escargot, people either love or hate Brussel sprouts. Cruciferous vegetables, including Brussel sprouts, and cabbage, are jam-packed with healthiness. Here is why you should pile up those Brussel sprouts on your plate whenever you have a chance.
1. Cancer
Consuming Brussel sprouts frequently can lessen your chance of contracting lung, colon, breast, bladder and ovarian cancer. A recent study looking at over 700 people showed those who ate cruciferous veggies had risks 29 percent lower of getting bladder cancer than those eating very few cruciferous vegetables.
2. Sulforaphane Stops Cancers
Brussel sprouts contain sulforaphane, which lowers liver cells' emission of the cholesterol transporter. (This also is attributed to clearing substances which may cause potential cancers.
3. Protect Your DNA
Another study conducted on 10 men showed that the 5 men who ate Brussel sprouts daily had 28% less DNA damage. This also can be related to cancer as mutations in DNA may allow cancer cells to develop.
4. Let Brussel Sprouts Beautify You
Brussel sprouts contain high amounts of vitamin C. This manufactures collagen, which is the protein that gives good skin structure (lack of collagen means earlier wrinkles, and visible at a younger age, you will have flexible skin). A study conducted in England proved that those with high levels of vitamin C had 50 % less risk of dying from heart disease, stroke, or cancer. Also, Brussel sprouts contain huge amounts of vitamin A and beta-carotene which encourage beautiful even skin tones.
5. Brussel Prevent Birth Defects
Folic acid is vital for perfect cell division as it is necessary for DNA synthesis. Folic acid deficiency has been associated with numerous birth defects, like spina bifida. Folic acid is the most common vitamin deficiency in the world. One cup of Brussel sprouts contains 93.6 mg of folic acid so eat up!
Although Brussel sprouts may taste disgusting to you, they are filled with essential nutrients your body needs. Adding mustard to Brussel sprouts may alter their flavor, as well as garlic, balsamic vinegar, and lemon juice, are good to flavor Brussel sprouts.

DoctorSolve Healthcare Solutions Inc., a Canadian Internet-based pharmacy intermediary (license #BC X23), offers low cost, long-term prescription drugs. A professionally registered pharmacist fills all Canadian prescriptions. A certified member of the Canadian International Pharmacy Association, DoctorSolve is ranked as one of the best online Canadian pharmacies .
For more information on how to order Canada drugs safely and securely call 1-866-732-0305 or visit https://www.doctorsolve.com/ – a trusted and reliable Canadian online pharmacy since 1999.