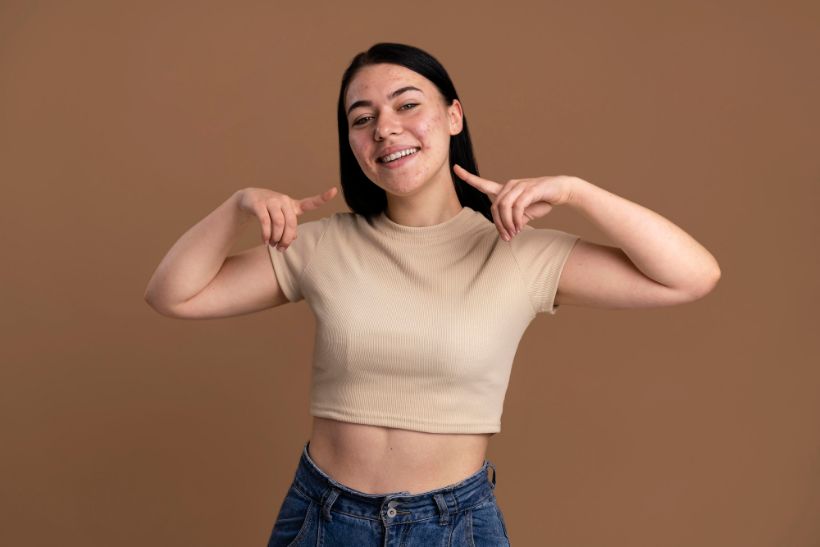 What is Clindamycin Phosphate and How Does It Help Acne?
Clindamycin Phosphate (Clindasol) is a topical acne therapy with SPF 15 sunscreen.
What does clindamycin do for acne?
Clindamycin phosphate topical solution helps treat skin infections, severe acne, and bacteria that cause infections.
How to use clindamycin phosphate topical solution?
Always wash and dry your skin before applying clindamycin phosphate topical solution.
Apply a thin layer of clindamycin phosphate to the whole area affected by acne, not just to the pimples. This will help keep new pimples from breaking out.
Try to avoid washing the affected areas too often as this may dry your skin out and make your acne worse. Washing with a mild soap 2-3 times a day should suffice.
For clindamycin phosphate to work, you must use the full treatment even if your acne begins to clear. Do not miss any doses.
Dosage information for topical cream, solution or suspension
Adults and children 12 years of age and over – Apply clindamycin phosphate twice a day to areas affected by acne.
Infants and children up to 12 years of age – To be determined by your doctor.
Regular intake of omega-3 will help lessen the severity of the acne inflammation.
Topisone is a topical corticosteroid used to relieve the inflammatory symptoms of severe psoriasis and rashes
5 Foods That Will Give You Healthy Skin
Know Your Enemy: The Common Cold
What to know before using clindamycin phosphate?
Do not use clindamycin phosphate if you've had any allergic reactions to it or other clindamycin or to lincomycin.
Do not apply cosmetics heavily or use them often as this may increase your acne outbreaks. Try to use only water-based cosmetics.
Clindamycin phosphate topical solution is for use on the skin only. Do not use it in your eyes, nose, or mouth.
Do not use it on skin areas that have cuts or scrapes.
Clindamycin phosphate may cause the skin to become unusually dry, even with normal use.
Clindamycin phosphate does not cure acne. Treatment of acne may take up to 8 to 12 weeks before full improvement is seen.
Side effects of Clindamycin Phosphate
Common side effects include:
Dryness
Scaliness
Peeling of skin (for the topical solution).
Less common side effects include:
Abdominal pain
Diarrhea (mild)
Headache
Irritation or oiliness of skin
Stinging or burning feeling of skin
You may experience side effects not listed above while using this acne medication. If you notice any check with your doctor as soon as possible.
DoctorSolve Healthcare Solutions Inc., a Canadian Internet-based pharmacy intermediary (license #BC X23), offers low-cost, long-term prescription drugs. A professionally registered pharmacist fills all Canadian prescriptions. A certified member of the Canadian International Pharmacy Association, Doctor Solve is ranked as one of the best Canadian pharmacies online. Doctor Solve has filled more than 200,000 U.S. prescriptions.
For more information on how to order Canadian drugs safely and securely call 1-866-732-0305 or visit https://www.doctorsolve.com/ – a trusted and reliable Canadian online pharmacy since 1999.