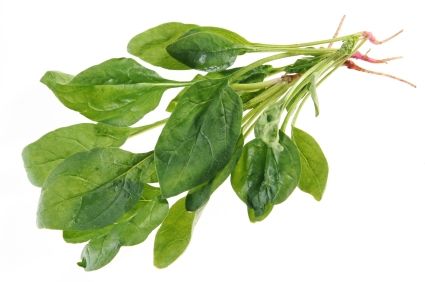 5 Health Benefits of Spinach
What does Spinach do for you?
Spinach contains vitamins A, C, E, K, B1, B6 and minerals like potassium, calcium, zinc, and so much more
Nutritional Benefits of Spinach
Vitamin A helps with things like vision, gene transcription, immune function, embryonic development and reproduction, bone metabolism, hematopoiesis, skin health, reducing the risk of heart disease, antioxidant activity.
Vitamin C helps in the development of healthy gums and in protecting against infections. Additionally, it strengthens many parts of your body such as blood vessels and muscles.
Vitamin E helps with the formation of muscle tissues and red blood cells. It also helps reduce the stress from exercise and reduces muscle damage.
Vitamin K is important for blood clotting.
Vitamin B1, or thiamin, helps fuel your body by converting blood sugar into energy. This keeps your mucous membranes healthy and is essential for nervous system, cardiovascular and muscular function.
Potassium is a mineral that helps the kidneys function normally. It is also crucial to heart function and plays a key role in skeletal and smooth muscle contraction, making it important for normal digestive and muscular function, too.
The body stores more than 99 percent of its calcium in the bones and teeth to help make and keep them strong. Your body needs calcium to help muscles and blood vessels contract and expand, secrete hormones and enzymes, and send messages through the nervous system.
Spinach Helps Prevent Cancer
Research shows that spinach contains over a dozen phytonutrients. These phytonutrients have certain properties that can help fight cancer. Some researchers have used spinach extracts to reduce the occurrence of skin cancer in animals, and lessened cell division in stomach cancer cells. The risk of breast cancer and prostate cancer may also be reduced with the consumption of spinach.
Spinach Promotes Better Cardiovascular Health
A substance called homocysteine is believed to be an important marker of heart disease and high levels are associated with an increased risk of Stroke. However, folate, a component of spinach, helps neutralize the harmful homocysteine.
Spinach Helps with Arthritis
If you suffer from arthritis spinach may be able to help you. Spinach contains anti-inflammatory nutrients to help the pain of arthritis.
Spinach Helps Prevent Eye Diseases
Spinach may be able to help prevent macular degeneration and even cataracts. Spinach contains lutein which, in many government studies, is shown to protect against both macular degeneration and cataracts, which cause blurriness and even blindness, mostly in the elderly.
There are too many good things about spinach to not add it to your diet. Go ahead and start eating that green vegetable whenever you can. The rewards will be invaluable.
DoctorSolve Healthcare Solutions Inc., a Canadian Internet-based pharmacy intermediary (license #BC X23), offers low-cost, long-term prescription drugs. A professionally registered pharmacist fills all Canadian prescriptions. A certified member of the Canadian International Pharmacy Association, DoctorSolve is ranked as one of the best online Canadian pharmacies.
For more information on how to order Canadian drugs safely and securely call 1-866-732-0305 or visit https://www.doctorsolve.com/ – a trusted and reliable Canadian online pharmacy since 1999.