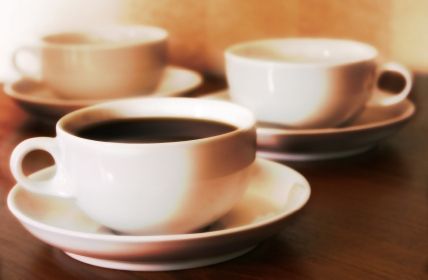 Coffee and Tea are linked to Diabetes Prevention
According to the International Diabetes Foundation, By 2025, about 380 million people worldwide will be affected by Type 2 diabetes. It is suggested that someday, people who are at greater risk for diabetes may be told to consume more tea and coffee on a regular basis as well as exercise more often. Researchers looking at 18 studies involving over 450,000 people between 1966 and 2009 have found a link between drinking coffee and diabetes prevention.
The data was recently analyzed by Rachel Huxley and her colleagues from the
George Institute for International Health
in Sydney, Australia. Huxley found that each cup of coffee that a person drank per day reduced the
risk of diabetes
by 7%. The researchers from the Archives of Internal Medicine concluded that those who drink three or four cups a day have a 25% lower risk than those who drank between zero and two cups per day. People who drink more than three cups of decaf coffee a day have around a 1/3rd lower risk of developing diabetes. Those who drink more than three to four cups of tea have a 1/5th lower risk than those who drink no tea.
The fact that these results were found in decaf beverages eliminates the possibility that caffeine is the cause. Researchers suggest that compounds in the drinks such as
magnesium
or
antioxidants
might be linked to the findings. Other research showed that caffeine may actually increase the risk of diabetes in obese people. More research must be made in order to take into account specific things like the effects on certain ethnic groups and whether tea drinkers are more health aware than coffee drinkers in general.
What is the Link Between Diabetes and Coffee?
Coffee is a drink that many people consume on a daily basis. It is also a drink that has been linked to diabetes prevention. Coffee contains antioxidants, which are thought to help reduce the risk of developing diabetes. Furthermore, coffee may help lower blood sugar levels and improve insulin sensitivity as well.
Also Read
Coffee Health Benefits and Risks (Updated)
5 Health Benefits of Coffee You Should Know About
Does Drinking Water Lower High Blood Sugar?
Surgery May Help Diabetics Reduce or Eliminate Their Need for Medications
Know Your Enemy: The Common Cold