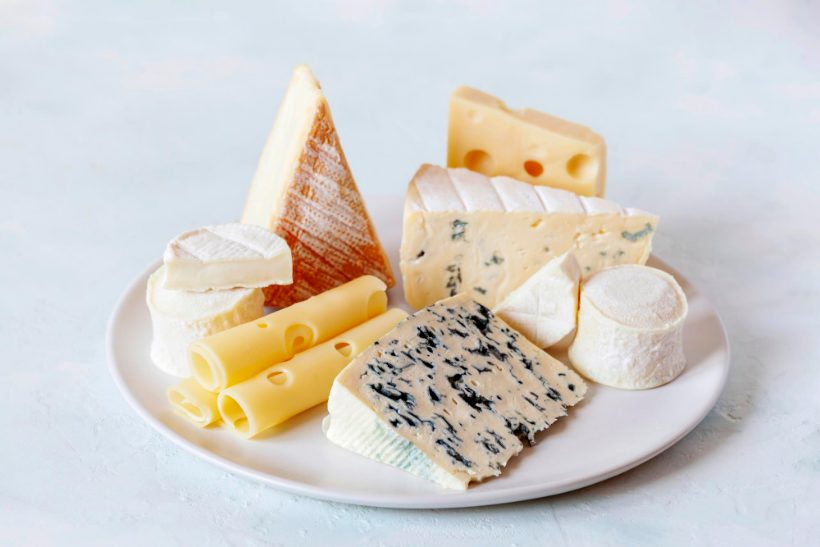 7 Health Benefits of Cheese
No matter what type of cheese you eat (cheese in a can and cheese whiz don't count) you are doing your body good. Health benefits of cheese doesn't get enough credit. These include things like cancer prevention, bone strengthening, and cavity fighting – but the best part is that is also tastes great!
1. Nutritional benefits of cheese
There is a very high concentration of
essential nutrients
in cheese including high quality
proteins
and
calcium
. There are also other elements in cheese such as phosphorous, zinc,
vitamin A
, riboflavin, and vitamin B12. It is also rich in the amino acid tryptophan, which helps the body produce serotonin and melatonin. The tryptophan in cheese can help you sleep better at night or reduce your anxiety during the day. Cheese can also be a great source of vitamin K2-MK7, which helps prevent osteoporosis by keeping calcium where it belongs-in your bones!
Nutritional facts about Cheddar, American Cheese and Mozzarella - 1 slice (1oz) (28g)
Cheddar
Calories – 113
Saturated fat – 6g
Calcium – 202mg
American Cheese
Calories – 104
Saturated fat – 5g
Calcium – 293mg
Mozzarella
Calories – 78
Saturated fat – 3g
Calcium – 205mg
2.

Does cheese cause cavities?

Cheese is extremely high in its calcium content. This is the most important thing when it comes to strong teeth. In addition, cheese has a very low content of Lactose. Lactose is a substance that comes from food and can harm teeth (The older the cheese, the lower the Lactose levels). Eating certain varieties of cheese such as aged Cheddar, Swiss, Blue, Monterey Jack, Brie, Gouda, and processed American cheese immediately after a meal or as a snack has been proven to prevent tooth decay.
3. Cheese and cancer
Cheese contains substances called Conjugated Linoleic Acid and Sphingolipids that help prevent cancer
(find cancer medications here)
. In addition, the vitamin B in cheese is good for maintaining body functions and protecting the body from disease. According to
cancer research UK
, numerous research studies have found no evidence to support the claim that dairy products and milk can cause cancer. In fact, having dairy products as part of a healthy diet may even reduce the risk of bowel cancer according to the NHS Eatwell Guide.
4. Is cheese fattening?
Be careful if you are trying to lose weight – cheese contains a lot of
natural fats
which may cause weight gain.
Cheese is a high-calorie food
. It contains about 100 calories in every ounce, which is more than the amount of calories found in meat or vegetables. The saturated fat content of cheese also contributes to weight gain. There are cheese which have a low-fat content that can be very healthy for you to eat and perfect for keeping your weight balanced. However, if you are trying to gain weight, whether its muscle weight, fat, or bone density, cheese is the healthy way to go. Cheese is full of protein, fat, calcium, and vitamins and minerals that keep muscles and bones strong and healthy. The vitamins and minerals are better for a balanced metabolism.
5. Bone Strength
Cheese is high in calcium content and rich in
vitamin B
. This is especially good for the bones of children, elderly people, and pregnant and lactating women for strengthening bones and cartilages. the vitamin B in cheese helps the body absorb and distribute calcium.
6. Osteoporosis
Since Osteoporosis is a deficiency diseased caused due to a lack of calcium, cheese is a perfect way to help the bone density of those suffering from Osteoporosis. Osteoporosis can be treated with protein, calcium, and a high intake of vitamins and minerals. All three of these things are found abundantly in cheese. The best cheese for strong bones:
Health benefits of cheddar cheese
Cheddar cheese is full of calcium and phosphorus, which are both important minerals when it comes to building healthy bones. Cheddar cheese also contains protein, vitamin A and vitamin D. Cheddar cheese is nutrient-rich, containing calcium that is vital for keeping bones healthy and preventing diseases such as osteoporosis. Additionally, it's also a good source of vitamin K which has a positive effect on bone health. Eating cheddar cheese as part of one's daily diet can thus provide various health benefits according to WebMD.
In addition to regular dental hygiene, your diet also plays a critical role in dental health. Eating cheese instead of sugary treats may help you reduce your risk of tooth decay and cavities.
Health benefits of swiss cheese
Swiss cheese has more protein than other cheeses and that means a higher amount of calcium-rich protein in your diet will help strengthen your bones. It also contains vitamins A and D as well as zinc, which are all great for bone health too!. A study conducted in Korea revealed that Swiss cheese is a great source of Propionibacterium freudenreichii. According to Metro.co.uk, this probiotic is known for its anti-inflammatory properties which can help you age slower by reducing inflammation in the body.
7. High Blood Pressure
Sodium and cholesterol are the elements that are considered harmful in people with
high blood pressure
, and hypertensive people are told to avoid them. Cheese in this situation must be considered critically. The fat in cheese depends on the quality of the milk it was made with. Full fat or cream milk, or low fat or fat free milk will determine how high the fat content of the cheese is. Typically, high fat cheese are more popular because they taste better, but many low-fat cheese are being introduced to shelves. Make sure to look for the fat content in the cheese before you buy it. The sodium content in cheese depends on the amount of salt added to the milk before it was turned into cheese. There are low-sodium cheese that are helpful in reducing agents which are associated with heart disease. The content of vitamin B in cheese is also helpful for those with high blood pressure.