buySAFE guarantees DoctorSolve Purchases
In their Efforts to Guarantee Customers a Safe and Enjoyable Shopping Experience, DoctorSolve has Become a buySAFE Merchant. The Identity, Reputation, Experience, and Financial Stability of buySAFE Merchants is Carefully Monitored on a Daily Basis. Plus as a buySAFE Member Merchant, DoctorSolve Provides Customers with a 3-in-1 Guarantee on Purchases, Identity Theft, and Price Drops.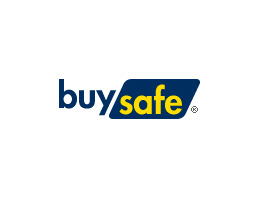 "All buySAFE merchants have
been carefully inspected before
they can display the buySAFE seal."
SURREY, BC May 10, 2011 – Established in 1999, DoctorSolve is an established online pharmacy with a satisfied customer base of more than 200,000. Dedicated to providing reliable and friendly service while dispensing affordable Canadian online pharmacy meds to American citizens, DoctorSolve has recently teamed with buySAFE so customers can rest easy knowing they are buying quality products from a reputable source.
Already certified by the Canadian International Pharmacy Association (CIPA), DoctorSolve is a legal source for straightforward and trustworthy advice about buying online drugs. DoctorSolve is fully regulated by the Canadian government and operates through a physical address in Canada. Furthermore, this trusted online pharmacy is owned and operated by qualified medical professionals, including a licensed Canadian doctor and a licensed Canadian pharmacist. Always putting the health and needs of the customer first, DoctorSolve has been providing Americans access to safe and affordable drugs for more than 11 years.
Now, DoctorSolve is proud to announce they are a buySAFE member merchant. buySAFE is an online organization that was developed to give shoppers more confidence in their online purchases. Essentially, buySAFE is a bonding service that allows shoppers to identify trusted online merchants such as DoctorSolve. In fact, buySAFE inspects and monitors member merchants while also providing a 3-in-1 guarantee that protects purchases, prevents identity theft, and ensures that you get the lowest prices.
All buySAFE merchants have been carefully inspected before they can display the buySAFE seal. Online merchants, including online pharmacies, must be reliable and financially stable while providing customers secure shopping options. In addition, buySAFE merchants are monitored daily, further assuring customers that the site will deliver on their terms of sale and provide safe online shopping. Plus, with the 3-in-1 buySAFE guarantee, customers receive a $25,000 purchase guarantee, $10,000 identity theft protection, and a $100 price guarantee.
The buySAFE purchase guarantee ensures that the merchant, in this case DoctorSolve, performs according to the terms of sale. If the buyer reports a problem transaction to buySAFE within 30 days of the date of purchase and the terms of sale are determined unfulfilled, buySAFE will reimburse the buyer the amount of direct loss up to $25,000. Furthermore, buySAFE automatically extends identity theft protection for 30 days for every purchase. Most importantly, DoctorSolve and other buySAFE merchants offer the $100 price guarantee. buySAFE carefully monitors online store prices and if the price of a purchased product drops within 30 days of the purchase, buySAFE will pay customers the difference up to $100.
In addition to more than a decade of valued service, DoctorSolve became a buySAFE member so that their customers can safely and confidently purchase quality and affordable mail order medications. Through their affiliation with buySAFE, DoctorSolve continues to prove their dedication to providing a safe and enjoyable online shopping experience to their customers.